All the Big Video Games Coming In 2021
By
admin
on December 23, 2020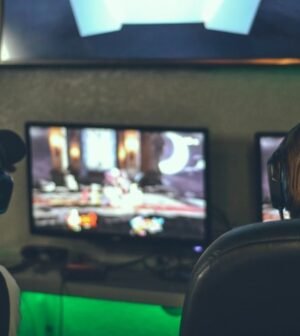 The year 2021 already seems to be a luminous year for the gaming world. Since the PS5 and Xbox Series X have landed on the market, expectations for the coming games have also skyrocketed.
If you have gotten a chance to have this new shiny hardware at your disposal, you must be pumped to play some avant-garde games about to be introduced in 2021. Moreover, with this year coming to an end, we can also see some big releases for PS4, Xbox One, Switch, and PC.
So if you are excited about some massive releases, keep scrolling because we are highlighting all the big video games that are coming your way in the year 2021.
1.   Hitman 3
Release Date: January 20, 2021
Platforms: PS4, PS5, Xbox One, Xbox Series X, PC
The return of agent 47 in Hitman 3 is shown with a dramatic conclusion as he will be bound in the world of assassinations. This series is showcased with a perfect story that is explained in next-gen and current-gen consoles. Here players are on missions in various sandbox locations from around the world. The IO interactive revealed that the beginning of the game is set at the site of Dubai. Plus, all locations from the entire trilogy of Hitman will be available for the players in this part.
2.   The Medium
Release Date: January 28, 2021
Platforms: Xbox Series X|S, PC
Are you interested in some horror games? Well, here is the next-gen horror play-off that offers you a chance to play two versions of the single-game world simultaneously. The player can play both the "real world" and the "spirit world" at the same time and switch between them any time they want. This game has a perfectly unique twist to it that will leave you astonished with its features.
3.   Outriders
Release Date: February 2, 2021
Platforms: PS4, PS5, Xbox One, Xbox Series X, PC
It is a new game that has an extremely interesting plot where the player or player(s) can find themselves on a new planet named "Enoch" as they have fled from the planet earth. It is a keen display of action-RPG and filled with the bloody combat that we are all up to. The publisher Square Enix and developer People Can Fly, gave it an above and beyond effect than an ordinary battle zone. And we are totally up for its Mass Effect!
4.   Persona 5: Strikers
Release Date: February 23, 2021
Platforms: PS4, Switch, PC
It is a warriors-inspired game that the forthcoming part of the Persona series. The style and gameplay are distinct and unique which will entice the players to enjoy this spin-off. Moreover, if you are interested in playing the role-play games and power your day up with these Hack and slash play-offs then this is for you. It follows the story of Persona 5, and the whole concept hooks you up with the clear-cut summary that it has to showcase in the beginning.
5.   Prince of Persia: The Sands of Time remake
Release Date: March 18, 2021
Platforms: PS4, Xbox One, PC
With the most memorable and attractive titles, Ubisoft is rendering one of the most awaited games in 2021. This is a remake that will astound every player when they embark on the journey of becoming the prince and saving the Kingdom from the perfidious Vizier. This game has brought the original story with high definition graphics and modern gameplay to make it perfect for this year's top listed games. If you have ever enjoyed playing the game of this genre, it will spike your attention and interest.
6.   Returnal
Release Date: March 19, 2021
Platforms: PS5
Since PS5 has been released this is the only exclusive and fully dedicated game that is only available for the players of the new console. This is a third-person shooter video game that is developed by Housemarque. This game is perfect to give you chills in the coming year as it is a psychological horror science fiction game that has everything futuristic and scary at the same time. Returnal is story-driven gameplay that is based on an astronaut who is stuck in the hellish Groundhog Day.
Far Cry 6
Release Date: May 25, 2021
Platforms: PS4, PS5, Xbox Series X|S, Xbox One, Stadia, PC
Are you already a fan of Far Cry Series? Here is a piece of great news for you! Far Cry 6 is coming next year with some incredible takedowns and spin-offs that will leave you stunned. This part of the whole series is based in Yara and displayed as a "tropical paradise frozen in time." Players will have the mission to oppose the dictatorship regime of Anton Castillo and save Yara and the people from this insensitive conductor.
8.   Deathloop
Release Date: May 21, 2021
Platforms: PS5, PC
If you are craving for an action-adventure of the year 2021, then here you go! Deathloop is a game developed by Arkane Studios and is based on two assassins. Their mission is to kill each other again and again and ad nauseam. It is filled with mysterious locations and the concept of the place is described as the "Time of Madness." If you want to enjoy and spare some action-filled time on your new PS5 console or PC then do try this fun-filled thrilling play.
Looping Down
If you are ready to shine out in 2021 by playing the best games then do try some or all of the above to experience the creative and exciting nudge of the coming era. For times when you're tired of gaming, you can always watch some amazing shows and movies.
You can always count on the perfect service of Spectrum. For the bliss of entertainment try subscribing Spectrum Silver Package that is offering everyone Free HD and more than 175 channels. You also get high-speed internet to maximize your gaming experience. Now isn't that something you don't want to miss out on?